So today is Madeleine McCann's 10th birthday, the beautiful little girl who went missing whilst on holiday in Praia da Luz, Portugal in May 2007.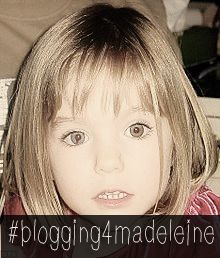 I cannot begin to imagine loosing either of my girls. My heart skips a beat when Pops is walking by the side of me and she suddenly jumps out of my eye-line, I am suddenly filled with fear only for her to be back seconds later.
The thought of not knowing where my child is, who she has become and whether or not he even remembers who I am. To go to bed every night with only questions. No answers.
So when the lovely Caroline from A Mummy's View asked for support, I was more than happy to sign up!
Here is a photo of what Madeleine could look like now. Please remember, if you think you have seen her to ring your local police station immediately AND
+44 845 838 4699 or investigation@findmadeleine.com

OR Crimestoppers in confidence on 0800 555111 or www.crimestoppers-uk.org
Lets try and bring her home.